Chole Bhature: Delhi, The capital of India is one of the best place to have street foods, Delhi offers variety of road side food and stalls. Chole bhature is a Punjabi dish but very popular in major urban cities of India. Delhi is well famous for best chole bhature, commonly eaten for break fast or snacks other famous road side food from Delhi are rajma chawal, prathe and most famous mouth watering snacks item chaat.
Poha-Jalebi: Indore, The biggest city and commercial capital of the state called "heart of India" Madhya Pradesh. Indore is most popular for its culinary rang and well known for wide range of namkeens, samosa, chaats, lapsi and the best one bafla. Poha-Jalebi is the best street food and the specialty of Indore served with sev & nukti and with jalebi. Indore felt proud of the poha and jalebi being the best in the world.
Litti chokha (Bihar) - Coal-baked balls of wheat flour and ghee (clarified butter), served with a spicy aubergine, onion, and tomato mash.
Vada Pao - It's not even half of the list and I'm already hungry. The next on our list of Indian street foods is none other than Aamchi Mumbai's Vada Pav which is often called as Indian burger.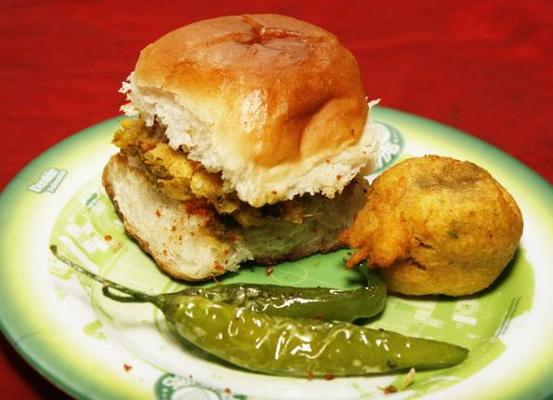 Kachori - This traditional brunch snack is made by filling small dough balls with a spicy potato mash, but is delicious at any time of day.
Dabeli: Ahmedabad, The most popular street food originate from the Kutch region of Gujarat and travel across street of Mumbai, Pune and other cities of India. Dabeli is a very popular and fantastic spicy snacks item made by boiled potatoes with a special dabeli spices and putting the mixture between the pav.